Jun- Dec 2021
Pro Retina e.V.
Sports partner
for blind people at assisication Pro Retina e.V.
non-profit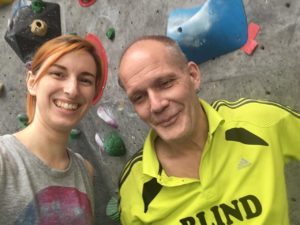 April 2019 - Sept. 2020
Fashionproject "Wechselwirkung"
Creativ director Fashiondesign
Inclusive project for barrier-free fashion, sponsored by "Aktion Mensch" in cooperation with WIM-Berlin e.V. and the Diakonie Mühlhausen.
low-profit
Sept. 2018 - Aug. 2020
Fotostudio für blinde Fotograf*innen
Assistent for blind Fotographers
Support in the implementation of concepts and ideas for portrait and fashion photography
low-profit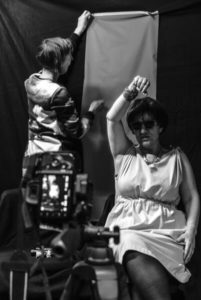 June 2019
Lebenshilfe Berlin
Assistent for traveling
Caring for children and teenagers during a one-week trip
low-profit
April - June 2017
Lebenshilfe Berlin
Costumedesign
Design of dance costumes for the "Carnival of Cultures" in Berlin
low-profit
Sept. 2015 - June 2016
University of Applied Sciences and Arts Hanover
Graduate Speaker
Representation of students' interests in university policy, with faculty, program and university management.
non-profit
Oct. 2014 - June 2017
Lebenshilfe Hannover
Mobile support service/single case assistance
Childcare for Sophie, severely disabled
low-profit
Sept. 2011 - Jan. 2016
University of Applied Sciences and Arts Hanover
Fittingmodel
Fittingmodel for fellow students during design development for patterns, presentation of prototypes for bachelor and project presentations
non-profit
March 2012 - July 2014
University of Applied Sciences and Arts Hanover
Member of student council
Representation of the interests of students, elected member from March 2013 to March 2014
non-profit
Sept. 2011 - Jan. 2014
University of Applied Sciences and Arts Hanover
Fashion design tutoring
for fellow students and prospective students in the fields of production engineering, pattern construction and design development
low-profit
April 2013
Baltic Fashion Award
Assistent Fashionshow
Preparation of collections for fashion show, model assistance during the show
non-profit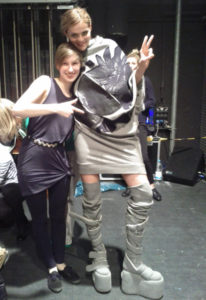 July 2012 und 2013
Mercedes-Benz Fashion Week Berlin
Assistent Fashionshows
Location preparation, guest relations, model assistance during the shows
non-profit
kontakt(at)annaflemmer.com